For a long time cigarettes were the only solution for smokers. In 2004, an alternative was introduced into market – electronic cigarettes. Since then the market of electronic cigarettes has been full of different products by various manufacturers. However, tobacco industry is not an exception technology wise. Technologies are always progressing. Thus in 2014 a new alternative to smoking was introduced – tobacco heating system IQOS. We should highlight that IQOS and electronic cigarettes are two different products. Curious about the explanation? More details are revealed in this article.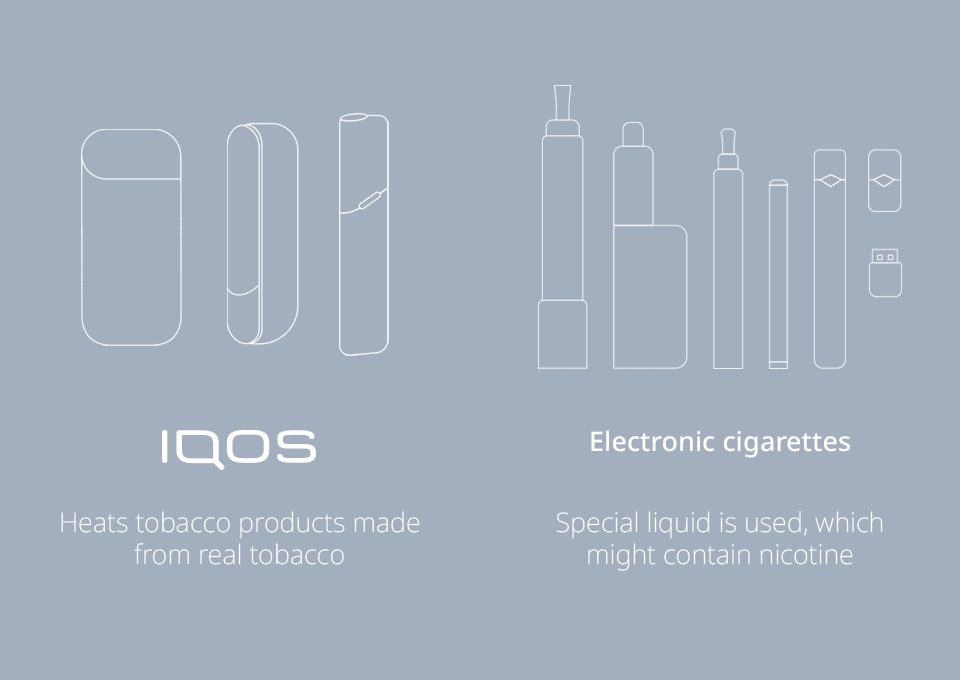 The operating principles of IQOS and electronic cigarettes
IQOS belongs to the category of smokeless devices. When using IQOS, natural tobacco is heated, generating aerosol. Thus in taste and experience IQOS resembles cigarettes. That's why it is easy to switch to IQOS.
The main material used in electronic cigarettes is nicotine, not tobacco. It is sourced from tobacco and provided in liquid state. When using electronic cigarette, this liquid is heated, generating vapor. Thus, it imitates smoking tobacco. The duration of smoking session is not defined, so it is difficult to understand how much nicotine you have inhaled when smoking an electronic cigarette. Electronic cigarettes are used with various liquids. Some of them might be nicotine-free.
Thus, IQOS and electronic cigarettes are two separate products, as their operating principles are different. IQOS users experience an absolutely natural taste of tobacco. Because of that, using the device feels a lot like smoking standard cigarettes.
Tobacco heating technology
IQOS devices use a unique IQOS HeatControl™ technology. With this technology, tobacco in IQOS is not burned but heated. When tobacco burns in a cigarette, the temperature at its tip reaches up to 800 °C. Tobacco in IQOS is heated up to 350 °C. This is why IQOS does not require fire, leaves no ashes and emits no smoke.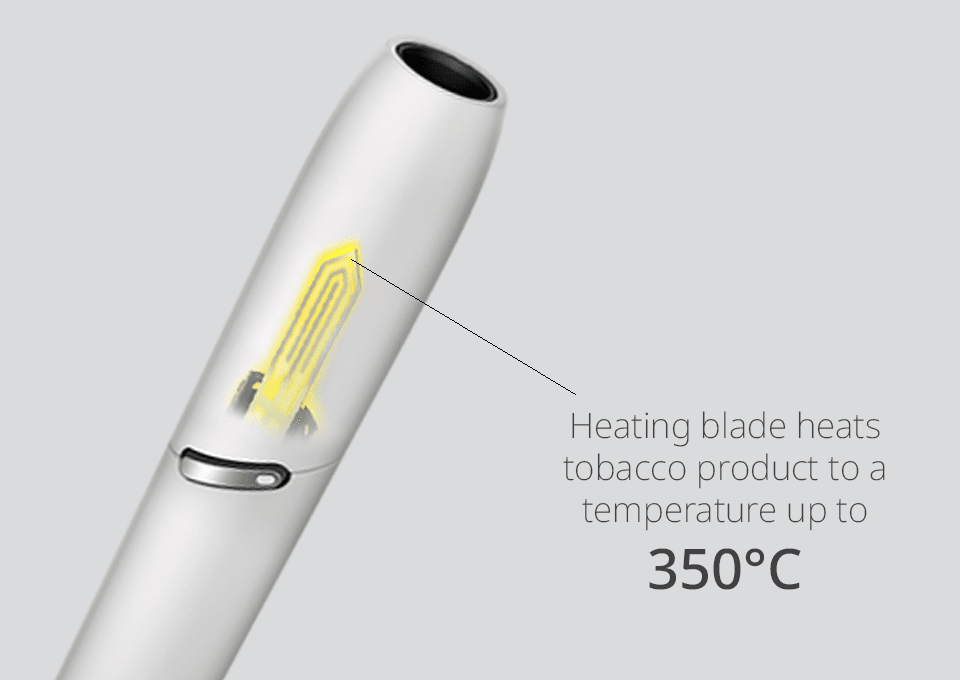 What does the research of IQOS tell us?
The innovation of IQOS is based on scientific research. Their methodology is built upon the long-term experience of the pharmaceutical industry as well as the recommendations of Food and Drug Administration (FDA). After evaluating the IQOS system, FDA has declared that IQOS has the potential to contribute to the safety of public health, and thus issued the permission to merchandise this product in the United States of America.
Atlikti Researches on IQOS showed favorable changes in the smokers who switched to IQOS compared to those who continued to smoke cigarettes. It was also found out that IQOS emits on average 95% lower levels of harmful chemicals compared to cigarettes.*
Alternative to smoking
More than 70 % of adult smokers, who are not capable of quitting smoking, switch to IQOS after trying it as a better alternative to smoking. IQOS uses real tobacco, so those unable to quit smoking can satisfy their need for nicotine. They quit using standard cigarettes and contribute to creating smokeless environment.
Places allowing to use IQOS and banishing standard cigarettes
The number of IQOS-friendly places is increasing. However, we recommend to check the inner code of conduct of a specific place. You should ask if using IQOS is acceptable and won't cause any problems for people around you.
* Compared to the smoke of a reference cigarette (3R4F). It does not necessarily equal a 95% reduction in risk. IQOS is not risk free.