Our customers often ask how to purchase IQOS system for lower price. Where to buy IQOS? How much does IQOS 2.4 Plus cost at petrol stations? To answer all your questions regarding the selling points of IQOS 2.4 Plus, terms and conditions and prices, we are providing you with detailed guide that will help you to purchase the better alternative to smoking, IQOS tobacco heating system, for a regular price of 49 EUR.
Places where you can purchase IQOS 2.4 Plus system for 49 EUR with registration.
IQOS boutiques and shops. You can find shops in Vilnius, Kaunas, Klaipėda, Šiauliai, Panevėžys and Alytus. In our boutiques and shops you will be able to purchase IQOS 2.4 Plus system, accessories and to get consultation on device's maintenance and warranty. Locations and working hours of IQOS shops are listed HERE.
iqos.com. For your convenience, IQOS 2.4 Plus can be purchased online at any time, without leaving home. You can choose a free courier delivery to your address or to collect the purchase yourself at one of petrol stations* – "Cirkle K", "Viada" and "Baltic Petroleum".
"Baltic Petroleum", "Viada", "Circle K" gas stations*. IQOS 2.4 Plus classic colour tobacco heating systems are available at new sales locations such as "Baltic Petroleum" and "Viada" gas stations, as well as "Circle K" gas stations. The regular price of IQOS 2.4 Plus (49 EUR) is offered only to users, registered on iqos.com. The price for non-registered users can be higher and may differ in different chains of gas stations.

*Except "Baltic Petroleum" gas stations in Rokiškis, Respublikos str. 113B, Anykščiai, A.Vienuolio str. 34A, "Viada" gas station in Vievis, Kauno str. 34A.
How to buy IQOS 2.4 Plus at gas station chains in Lithuania?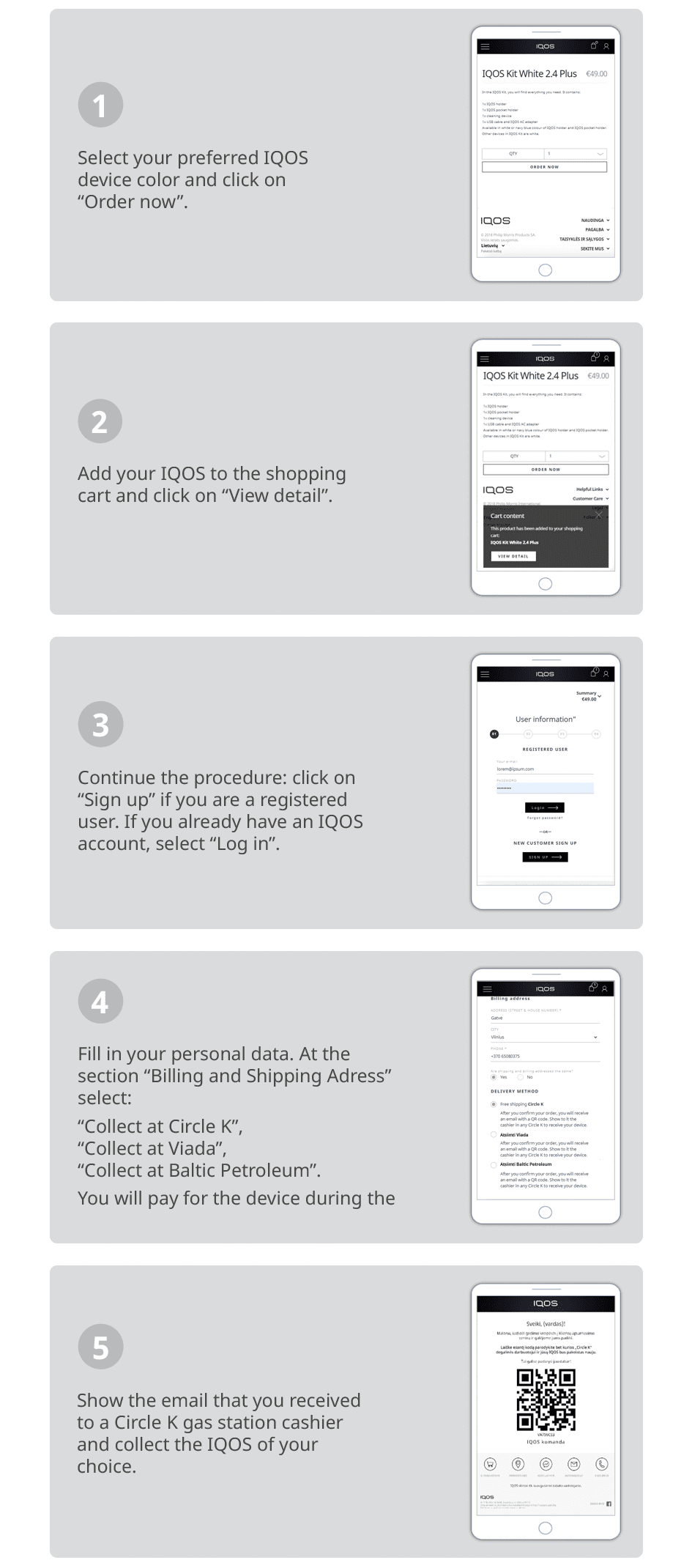 In case you have encountered problems during the ordering procedure,
please call
8 800 20090
(IQOS Customer Support).